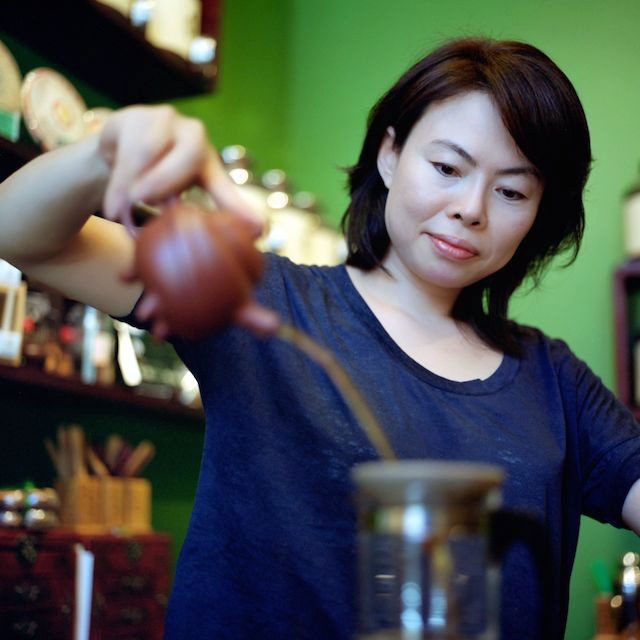 Treasure Green Tea Company is pleased to announce the offering of exclusive tea ceremony classes with second-generation tea master, Olivia Cheung.
Thursday, October 9, 2014 from 6:00 pm to 7:30 pm
Thursday, November 13, 2014 from 6:00 pm to 7:30 pm
In the tea ceremony and Gong Fu Cha class, Olivia will provide tea enthusiasts a step by step tutorial on the traditional tea ceremony, using ceremonial utensils as well as an introduction to premium tea tasting and preparation.
Treasure Green Tea Company is, itself, a hidden treasure, located on the 200 block of East Georgia in Chinatown.  Established in 1981 by Olivia's father, Treasure Green Tea Company is the first authentic Chinese tea shop in Vancouver.
In this transitioning community, Olivia is a rare example of a second generation Chinese merchant in Chinatown.  Her father, Mr. Kwok Sun Cheung, opened the shop thirty years ago, and brought his passion for tea.  Training under her father, Olivia went on buying trips to China and learned the traditions of the tea business, from self-sourcing premium quality teas to mastering the tea ceremony.  Treasure Green Tea Company offers the most exclusive and diverse collection of premium tea, such as pu-erh tea cakes and Treasure Green's Emerald Silver green tea, that are ethnically sourced from the most famous regions in China.  Olivia always tells her customers, "Don't be loyal to tea.  Be loyal to your tea merchant."  To this day, she stills serves some of her Father's loyal customers as well as captivating a new generation of tea lovers who are drawn into the taste and health benefits.
Treasure Green Tea Company is located at 227 East Georgia Street, Vancouver.